ACCESS TO HEALTHCARE PROFESSIONALS
The Commonwealth Fund's 2014 Mirror, Mirror On The Wall (How the performance of the U.S. Health Care System Compares Internationally), from "the physician and patient perspective, shows the U.S. health care system could do much better in achieving value for the nation's substantial investment in health. The U.S. health care system is the most expensive in the world, but comparative analyses consistently show we underperform relative to other countries when it comes to access to healthcare."
The Commonwealth Fund's report is only exacerbated by the American Hospital Association's report that states "since the year 2000, hospitals of all types have provided more than $367 billion in uncompensated care to their patients.
To connect the dots; because Americans cannot access primary and other non-emergent sub specialty care, due to the shortage of physicians and other healthcare professionals, they are seeking care in the most expensive setting, emergency rooms.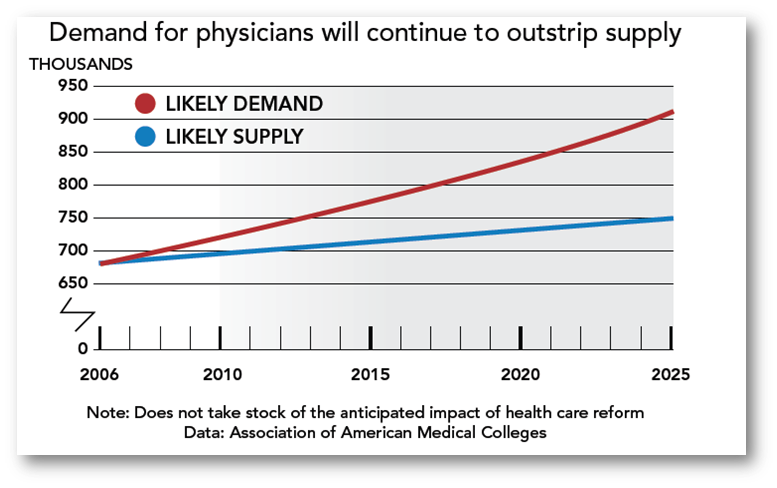 As the above graphic shows the demand for physicians will continue to increase. Unfortunately the shortage of healthcare professionals does not stop with physicians. The U.S. faces similar shortages in nursing, where the Bureau of Health Professionals estimates that the shortage of RNs will climb to 800,000 by 2020. This trend will continue with pharmacists and other allied science professionals (x-ray, anesthesia, physical therapy, lab, etc.).
PointLeader Healthcare recruiters are recognized as the most effective professionals in the industry. Our cutting edge approach and processes are successfully being utilized by healthcare systems, stand alone hospitals, and physician service organizations (e.g. Hospitalist, Emergency Medicine, Hospice).